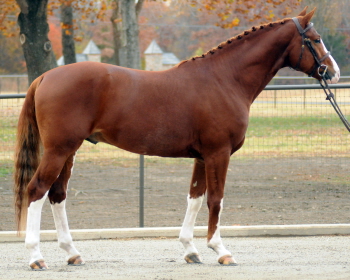 Approved: AHS, CSHA, CWB, GOV, RPSI, and sBs





Eclipsed By Color (Color Guard) is a stunning 7 year old stallion with amazing talent and superior jumping bloodlines. He is a talented young jumper who brings to you: terrific temperament, athleticism, versatility, scope, technique, rideability, intelligence, sensibility and a superior work ethic that is uncompromising.
He is now an approved stallion for the following associations: AHS, CSHA, CWB, GOV, RPSI, sBs.
He was overall Reserve Champion in his 2010 70-Day Stallion Test at Silver Creek Farm in Oklahoma, winning the jumping portion of the test. Some of his test scores from the training director included:
Character 10.0                                       
Temperament 9.0
Willingness To Work 9.5
Constitution 9.5
Rideability 9.0
Free-Jumping 9.0
Stadium Jumping 9.5
Cross-Country Jumping 9.0
The judges also gave him impressive scores which included:
Free-Jumping Technique 9.0
Free-Jumping Scope 9.5
Cross-Country Jumping Technique 8.0
Cross-Country Gallop 8.5
His test riders scored him with a 9.75 in his jumping.
At the end of the testing he received overall scores of:
Dressage 105.09
Jumping 127.00 earning him the title of Jumping Champion.
Overall 118.65 earning him the title of overall Reserve Champion.
Then in the summer of 2011 he went to the American Hanoverian Inspection at Hilltop Farm in Maryland, USA and received some very impressive scores from the judges and most impressively passing his AHS stallion inspection:
Free jumping technique 8.0
Free jumping ability 9
Total jumping score of 8.5
He pursued his show jumping career in the winter of 2012 in Thermal California with Jill Henselwood. He then continue showing with Jill Henselwood in the 7/8 Year Old Young Jumper Development Series in Ontario, Canada throughout the 2012 show season.
For this 2013 winter show season Color Guard debuted in the Hunter ring with Cathy Inch in Ocala Florida.
Excellent quality tested frozen semen will be available throughout the 2013 breeding season as well as cooled semen.  Color Guard is tested EVA negative.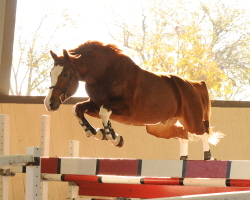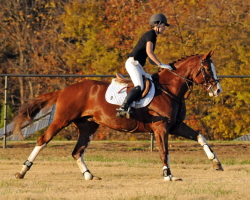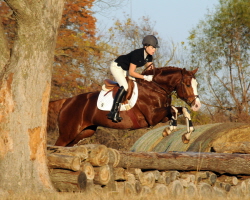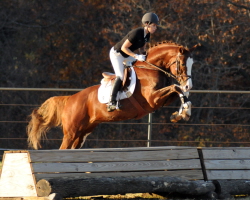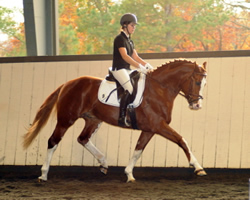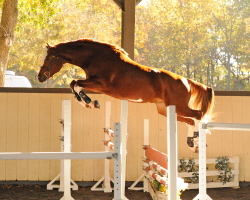 INFORMATION
| | |
| --- | --- |
| Breed | Hanoverian |
| Height | 16.2 hands |
| Colour | Chestnut |
| Date of Birth | 05/02/2005 |
| Place of Birth | Canada |
| Breeder | Royal Canadian Mounted Police |
| Owner | Katriina Ruotsalo |
| Stud Fee | $500.00 (early bird $) |
| Booking Fee | $200.00 |
PEDIGREE
COLOR GUARD

(ECLIPSED BY COLOR)

ESPRI

EIGER I

DIPLOMATIN

ATHENE

ARKANSAS

WINZERIN

FREIA

ESKALADE

MONDANA

MATCHO AA

DISCOGIRL
Escudo I

Color Guard's sire was the winner of the stallion performance test in 1994 with a 144.90 points in the jumping category. He also won the six-year-old Jumper Champion title in 1997. Escudo I has also been the winner of several show jumping competitions at "S" level in 1999. He has produced a convincing crop of foals including top price foal of the Verden Spring Auction in 1998.

Photo Credit to Eichenhof Katt

Federalist (shown as Faberge)

Color Guard's grandsire (his dam's sire) the son of For Pleasure competed in the mini prix with international jumper trainer Chris Pratt. He throws exceptional hunter movement, a beautiful jump and sterling temperament. Currently winning in the hunter ring with an amateur.

Photo Credit to Gray Fox Farms

For Pleasure

Color Guard's great grandsire is a two-time Olympic Gold Medal winner, World Champion and Hanoverian Stallion of the year in 2000. He was a member of the gold medal-winning German show jumping team at the1996 Atlanta Olympics, and named German horse of the year in 1995. He is one of the most sought after sires in Germany and one of the most successful currently competing breeding stallions. He has produced 20 licensed stallion sons.

Photo Credit to Superior Equine Sires
Interesting Fact: Color Guard has inherited For Pleasure's beautiful color and markings.
Lets hope that he has also inherited his amazing talent.
BREEDING CONTRACTS
VIDEOS
2010 North American Stallion Test - Free Jumping
2010 North American Stallion Test - Cross Country
2010 North American Stallion Test - Stadium Jumping
2010 North American Stallion Test - Dressage
WERE YOU CAN FIND COLOR GUARD
February 2013

Sunday

Monday

Tuesday

Wednesday

Thursday

Friday

Saturday

1

(Home)

2

3

4

5(Manning Equine Veterinary Services)

6

7

8

9

10

(Cooled Semen Available)

11

12

13

14

15

16

17

18

19

20

21

22

23

24

25

26

27

28

29

30

For any semen inquires please contact us.
COLOR GUARD'S OFF SPRINGS
2010
These are two of Color Guard's (Eclipsed by Color's) Fillies born in 2010.
Star is the bay and Angel is the chestnut. This picture was taken early this summer. Both girls are currently for sale, the owner Soo Olafsen mentions "they are the best and very easy".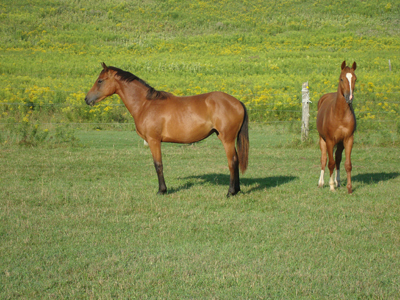 Soo Olafsen owner of Star and Angel expresses her thoughts of Color Guard as: " I was at a Governor General's Cup qualifier in fall 2008, watching the horses warm up for the class. A chestnut colt with chrome stood out from the rest of the three-year-olds. Not only was he a beautiful horse, he just floated across the ground. And despite the chaos around him, he stayed composed, obedient and focussed on his work. I had no idea what breed he was, I just knew I was very impressed by this young horse. The following spring, I bred two of my mares to Color Guard and as a result, have two lovely fillies who have inherited their father's movement, confidence and charisma. Watching what he has accomplished in just a short time I am glad that I chose him as an up and coming."
2012
Color Guard (Eclipsed by Color) has six offspring born in 2012. Three colts and three fillies born at NLHF witch are all RPSI premium foals. Please visit our Foals page for more information and pictures of our beautiful foals.
2013
Color Guard (Eclipsed by Color) is expecting ten offspring this 2013 foaling season. Six beautiful healthy filly's and one handsome colt have already hit the ground, please keep on checking the website for updates on Color Guards foals.
Please visit our Foals page for more information and pictures of our beautiful foals.