ABOUT US

Northern Legacy is a privately owned horse facility located in beautiful Northern Ontario.  The farm, owned by Craig Fielding and Katriina Ruotsalo, started by breeding recreationaly some Paints and Quarter Horses. Now they are entering their fourth year of breeding warmbloods.

In 2007, Craig and Katriina purchased the Hanoverian stallion Color Guard (Eclipsed By Color) from the Royal Canadian Mounted Police horse sale.
This began a new path for Northern Legacy. With the purchase of this stallion and a handful of fine warmblood mares, their new breeding program was put in place.

Their first warmblood foal was born in the spring of 2010.
Northern Legacy Horse Farm welcomed two warmblood foals in the spring of 2011.
Northern Legacy Horse Farm welcomed seven warmblood foals, witch six were sired by our very own Color Guard (Eclipsed By Color) in the spring of 2012.
Craig and Katriina are looking forward to a promising year in 2013.

Katriina has also been showing in the Hunter and Jumper divisions on the Trillium, A Circuit, and HITS Circuit in Florida for the past four years with great success under the guidance of Cathy Inch, owner of Foothills Farm in Chelmsford, ON.

Some of the highlights include:
• Color Guard's fourth year at stud
• HITS show circuit in Florida
• Color Guard's first show season in Ocala with Cathy Inch and Katriina Ruotsalo
• Foaling season, lots of nice warmblood prospects
• Color Guard's AHS Inspection
• And much much more ...

Be sure to check out our Horses For Sale!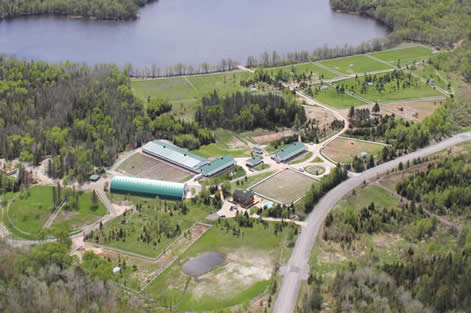 NEWS
June.02,2014-Chilly "Enchanted" made NLHF proud today at her first show she was the WINNER of the non TB yearling filly in Devon with big thanks going out to Charlie Brown for handling her and to Laprise Stable for preparing her for this big event.
Apr. 01,2014-Eclipsed by Color semen collections have started.
FOR MORE INFORMATION ON PRICING AND CONTRACTS PLEASE VISIT COLOR GUARD (ECLIPSED BY COLOR) PAGE STALLION AND OR CONTACTSANDRA LAPRISE AT LAPRISE STABLES FOR ANY FURTHER INQUIRES OR QUESTIONS
REGUARDING ECLIPSED BY COLOR SEMEN. LAPRISE STABLES
Jan. 22, 2014- Most of our horses for sale will be in an online auction till February 9/2014 please check out this auction and all of our Eclipsed by Color foals for sale. http://www.horsematchintl.com/Online-Auction.html
If you are interested in one of our foals in particular please look them up by name on the auction website. The horses available for sale in the auction are Flutie, Cayenne, Pepper, Paprika, Saffron, Elway, Moon, Tebow, Sage, Rosemary, Parsley and Brett. Eclipsed by Color Semen will also be available in the auction.
Jan. 21, 2014- We are excited to welcome Freia (Eclipsed By Color Dam) to her new home at NLHF.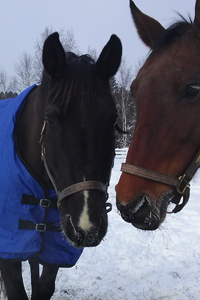 Dec. 13, 2013- Congrats to the new owners of Basil.... all of us at NLHF wish you the best with your new beautiful filly.