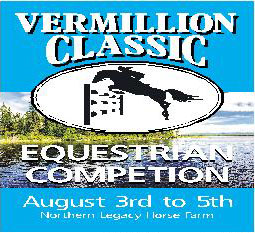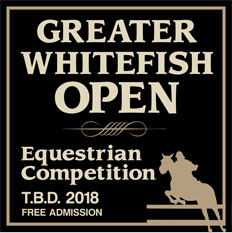 Northern Legacy Horse Farm is proud to be hosting two hunter jumper competitions at our
event grounds this August 2018. Thank you Northeast Trillium Hunter Jumper Association
and our fellow trillium venues. FREE ADMISSION to the public. Bring the family, get to know
equestrian riding, come see nothern ontario's best amateur horses and riders.
SHOW DATES are August 3-5 and August 17-19 2018.
ABOUT US

Northern Legacy is a privately owned horse facility located in beautiful Northern Ontario.  The farm, owned by Craig Fielding and Katriina Ruotsalo, started by breeding recreationaly some Paints and Quarter Horses. Now they are entering their fourth year of breeding warmbloods.

In 2007, Craig and Katriina purchased the Hanoverian stallion Color Guard (Eclipsed By Color) from the Royal Canadian Mounted Police horse sale.
This began a new path for Northern Legacy. With the purchase of this stallion and a handful of fine warmblood mares, their new breeding program was put in place.

Their first warmblood foal was born in the spring of 2010.
Northern Legacy Horse Farm welcomed two warmblood foals in the spring of 2011.
Northern Legacy Horse Farm welcomed seven warmblood foals, witch six were sired by our very own Color Guard (Eclipsed By Color) in the spring of 2012.
Craig and Katriina are looking forward to a promising year in 2013.

Katriina has also been showing in the Hunter and Jumper divisions on the Trillium, A Circuit, and HITS Circuit in Florida for the past four years with great success under the guidance of Cathy Inch, owner of Foothills Farm in Chelmsford, ON.

Some of the highlights include:
• Color Guard's fourth year at stud
• HITS show circuit in Florida
• Color Guard's first show season in Ocala with Cathy Inch and Katriina Ruotsalo
• Foaling season, lots of nice warmblood prospects
• Color Guard's AHS Inspection
• And much much more ...

Be sure to check out our Horses For Sale!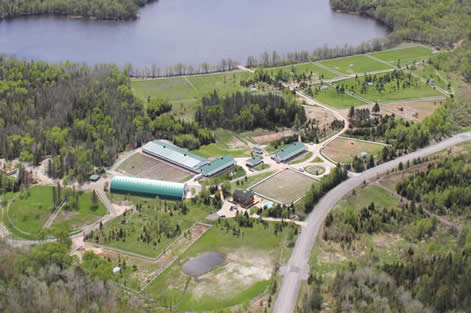 NEWS
Jun. 2018- NLHF would like to thank the RCMP musical ride for there beautiful show on June 9-10 2018. We hope to have the privilege to host the musical ride again in the future what an amazing show!!!
Aug. 2017-
2017 WESTFALEN NORTH AMERICA INSPECTION
WAS A BEAUTIFUL SUCCESS AS ALWAYS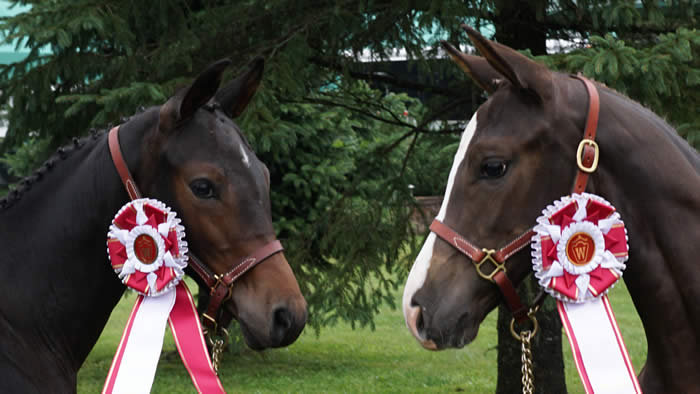 THANK YOU TO THE WESTFALEN NORTH AMERICA TEAM FOR MAKING THIS DAY POSSIBLE!!!
THE MARES AND FOALS ALL LOOKED BEAUTIFUL AND DID AMAZING!!!
May. 2017- FOALING SEASON IS COMPLETE FOR 2017!!!
WE WOULD LIKE TO WELCOME 5 NEW FOALS TO THE NLHF HERD...
Dec. 2016-
NORTHERN LEGACY HORSE FARM RPSI INSPECTION 2016
RPSI INSPECTION WAS SPECTACULAR AS ALWAYS THIS YEAR WE HAVE
FIVE GOLD PREMIUM FOALS AND THREE SILVER PREMIUM.
CHECK OUT OUR FOALS PAGE FOR MORE DETAILS ON OUR FOALS
Nov. 2016- CONGRATS TO ALL THE QUALIFIERS OF THE LIEUTENANT AND GOVERNOR GENERAL CUPS.
THREE QUALIFIERS WERE SIRED BY OUR VERY OWN STALLION ECLIPSED BY COLOR.
Nov. 20, 2016- RIP old friend. This day we say goodbye to an old friend. Rudy was the first pet purchased by Katriina and Craig. The one who started the NLHF family you will be greatly missed but never forgotten dear old girl.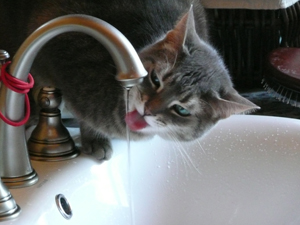 July.2-3, 2016- If you're looking for a big gelding ready for the show ring Brett and Marino will be available for viewing in Palgrave Saturday and Sunday don't miss out on these stunning boys.